All Enclosures are fitted with either ABB or K&N 3 Pole Switch Disconnectors, 2 n/o aux contacts and red/yellow pad-lockable handle. Our Enclosed Isolator range covers 0.37kW to 375kW. Additional customised adjustments are available.

The Standard and Hygienic Isolator Enclosures have been designed with IP66 ratings. Both units are manufactured from 304 grade (316 on request) 1.2mm stainless steel (corrosion resistant in natural and food atmospheres) with 180 grit level grain finish. The ceiling gasket is a one piece white EPDM sponge, food grade approved. Earthing studs are M6 welded to the body and front cover.
Dome nuts with stainless steel studs welded to the body ensure a positive fixing for the lid.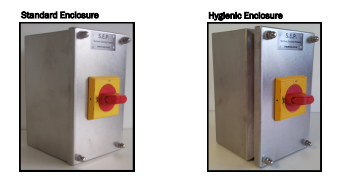 The IP66 unit is certified (No. 25408) NATA & IANZ tested to IP66 (AS 60529 : 2004) protection rating, (dust tight and protected from high pressure hosing from any practicable direction).
Screened Cable Isolation (VSD) Enclosures
The Screened Cable Isolation (VSD) Enclosures have been designed to ensure the complete circumference of the Screened Cable is maintained from the incoming and outgoing motor cables of the isolator. Where the phase cables are terminated into the Isolator, the screen is still connected using the compatible cable glands, screwed into the base of the Isolator Enclosure.

Using the technically designed insert, bolted in the Enclosure, the screens are connected together and isolated from steel work, ensuring a 360 degree earth. The insert is a solid piece of 3mm brass encapsulated by chemically resistant industrial grade PALRAM PVC (Patent pending). The Enclosure does require a separate electrical earth as the screened cable is now separate from the Enclosure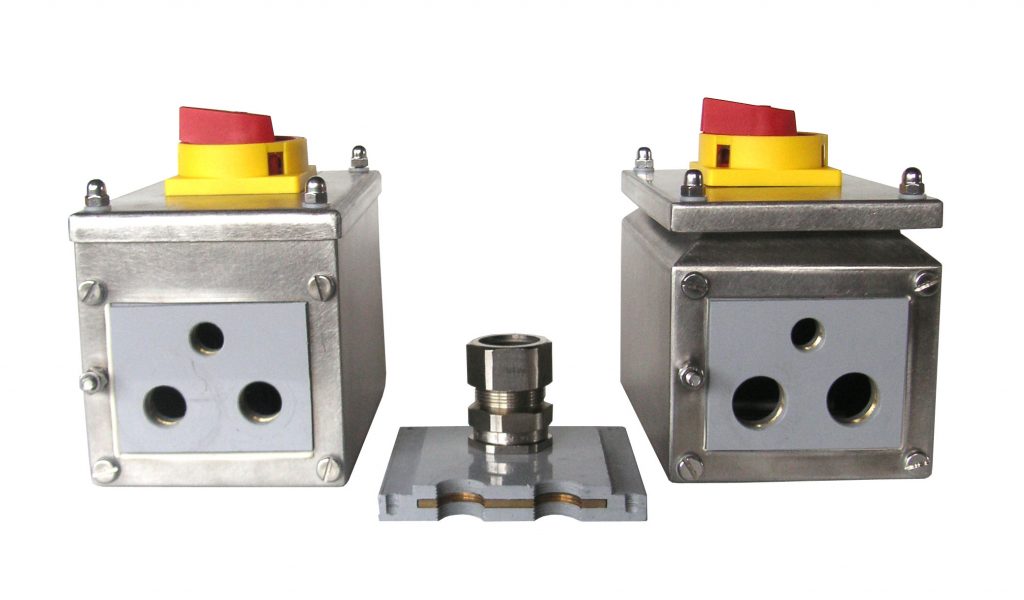 ---
Click the links below to see our range of Standard and Hygienic Design Isolator Enclosures